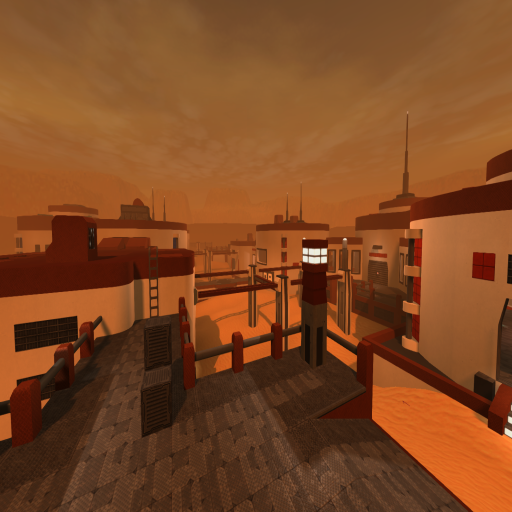 Information
|   |   |
| --- | --- |
| Name | To-Ru Octavus |
| Author | Ricky "unixfreak" Thomson and Alex "molexted" Foster |
| Filename | octavus |
| Release Date | 2013-03-03 (2019-11-02) |
| Introduced in | 1.5.0 |
| Size | Large (8-16) |
| Complexity | Simple |
| Theme | Military Base |
| Environmental Features | Desert |
| Day/Night | ✔/✔ |
| Lights | 256 (34/106/251) |
| Entities | 497 |
| Vertices | 85k |
| Triangles | 110k |
| Vslots | 137 |
| Recommend Modes | CTF, TDM |
Overview
One of the only two main maps included in 1.6 to make it to 2.0.0, Octavus is a large, open symmetrical team map suitable for large matches.
Notes & Strategies
Despite its size, this is a fairly simple layout. The bases are located at either end of the large outdoor courtyard in the center of the map.
Some flamer and grenade spawns are on the roofs of the buildings.
The area beyond the warning striping is instant death. Don't wander too far away.
Spawn Register
| Weapon/Item | Count |
| --- | --- |
| Sword | 2 |
| Shotgun | 4 |
| SMG | 4 |
| Flamer | 4 |
| Plasma | 4 |
| Zapper | 4 |
| Rifle | 4 |
| Grenade | 8 |
| Mine | 6 |
| Rocket | 0 |